Choose Language/Sprache auswählen




04.09.2021 New Photo Sets
Photo Set 57 At the Fireplace
Photo Set 56 Red Apple and White Lingerie
Info about updates on the homepage
Photo Set 55 Photoshooting with Ludmilla
Photo Set 54 Canarian Island
08.10.2023 New Videos
Video 110 Spa in Karlovy Vary
Video 109 Another Playground
Video 108 Spring Time Second Part
Video 107 Photoshooting in Kiev Third Part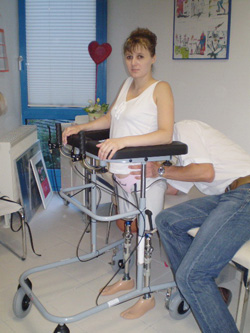 Later I gave birth to two sons. They are now (2014) 7 and 9 years old. They are the biggest love in my life. Life is very difficult for a handicapped person, especially when my children ask to play with me. They always ask me, "Mom, when will you have legs?" Pain compresses my heart when I cannot do the things with my sons which are normal for mothers.

Many friends have supported me to develop and realize this page, and I thank them for their kindness.

I ask that you be respectful gentlemen and you NOT copy, share or resell my product to others.

I sincerely thank all or you for buying my pictures and videos!

Pamela
A terrible accident happened to me in 2005 at the Kiev train station. In the evening, as I hurried home, I saw a familiar train. I rushed to get into the car, but it was very slippery on the platform, and I stumbled and fell.

At the same moment, the driver engaged the engine and moved the cars. Nobody had time to help me get out from the gap I had fallen into. The train dragged me a few meters. It was horrible, but I thought to myself, "I want to live!" and struggled to stay conscious. When the ambulance came, I lost consciousness.

When I awoke in the hospital, I threw off the blanket because I wanted to get up, but I did not have any legs. I was shocked and did not understand where they were. The doctors explained that they could not save my legs and had to amputate them to save my life. It was hard to believe that I did not have them anymore, especially since I could still feel them but could not move them to get out of the bed. I cried a lot, and I had tremendous pain! How would I live without my legs? But I resolved that I would learn to live as I now was.